The Digimarc Platform Tour: Fall 2019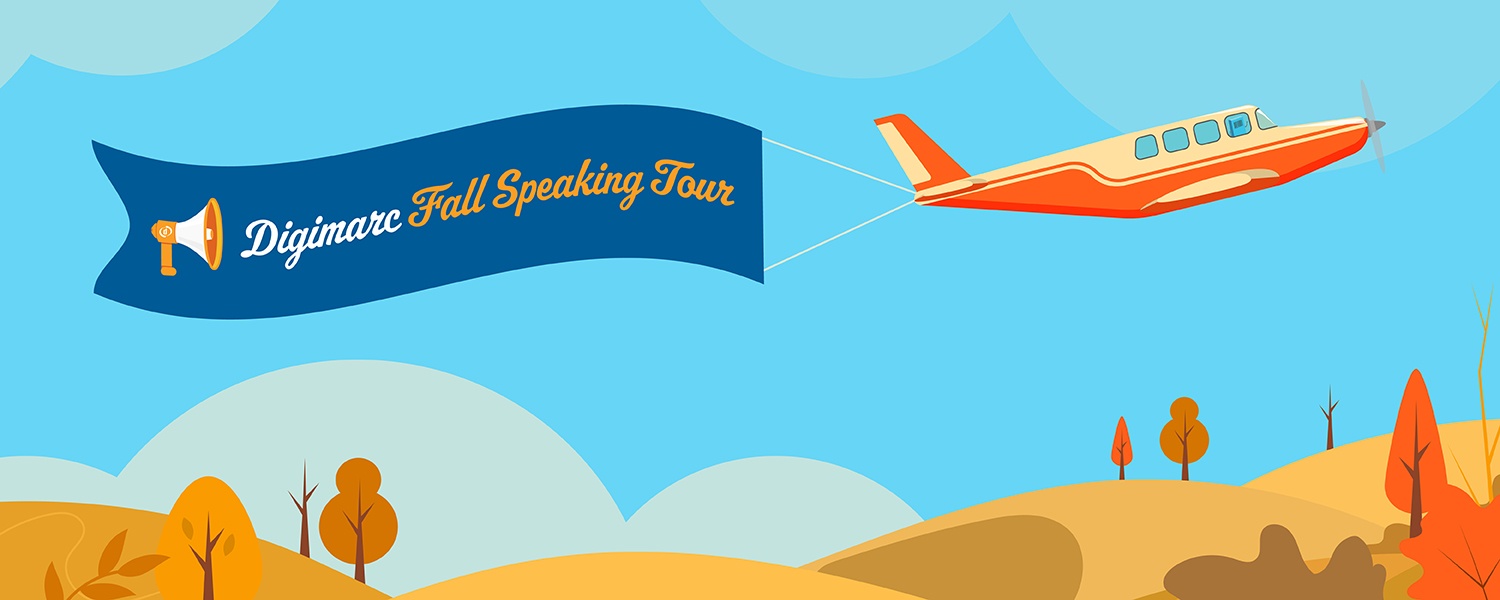 We'll be speaking and meeting with partners, customers and contacts in all corners of the globe this fall, attending events in San Diego, Brussels, Denver and many other cities. The team will be talking about the many benefits of the Digimarc Platform for retailers, consumer brands and manufacturers, including how to improve plastic sorting in recycling facilities, reduce food waste and how to protect your brands digital assets, and much more.
Sept. 11-12, San Diego, Calif.
Phil Stafford, Sr. Global Alliances Manager, is a panelist on the session titled: "The Benefits of Smart Technology for Supply Chain Optimization." The panel is moderated by Jay T. Wittmann, Intelligent Labels Product Manager, Avery Dennison, and the panelists will discuss the benefits of smart technology applied to inventory management.
Sept. 23-25, Las Vegas, Nev.
The Digimarc team will be in Las Vegas for this premier packaging and processing innovation show. Stop by the Datalogic booth (LS-6371) to see a demonstration of Digimarc technology.
ISWA (International Solid Waste Association) World Congress 2019
Oct. 7-9, Bilbao, Spain
Larry Logan, Chief Evangelist, is speaking on how Digimarc can help with efforts to better sort plastic recycling Oct. 8 at the EPR & Innovation conference. Larry is also speaking on Oct 9. at EXPRA Technical Working Group (The association of Extended Producer Responsibility Alliance).
Nov. 2-6, Los Angeles, Calif.
Adobe MAX is one of the world's largest creative events and the Digimarc team will be there to share our vision of how designers and brand executives can begin adding imperceptible and machine-readable codes to nearly any media or object. Comes see us at booth 1113.
Nov. 6-7, San Diego, Calif.
An important international conference dedicated to digital asset management. We are a show sponsor and also exhibiting.
Plastics Recyclers Annual Meeting
Nov. 21-22, Brussels, Belgium
Larry Logan, Chief Evangelist, will be co-presenting with Procter & Gamble's Gian de Belder on new opportunities to better sort plastic containers in recycling facilities.
Dec. 17, Monterey, Calif.
The Ag 4.0 workshop is designed to support the Fourth Industrial Revolution (4G) of U.S. agriculture through digital technologies. Digimarc's Bill Baer, Sr. Strategic Account Director, is speaking on how serialized Digimarc Barcode can help fresh food suppliers. Bill will focus on the challenges of track and trace operations and how Digimarc Barcode can assist fresh food suppliers to improve food safety and reduce the financial impact of product recalls.
Stay up-to-date on all our travels by visiting our events page.
Return to Blog
Newsletter Sign Up