Experts Say to Place Your Bets on Private Brands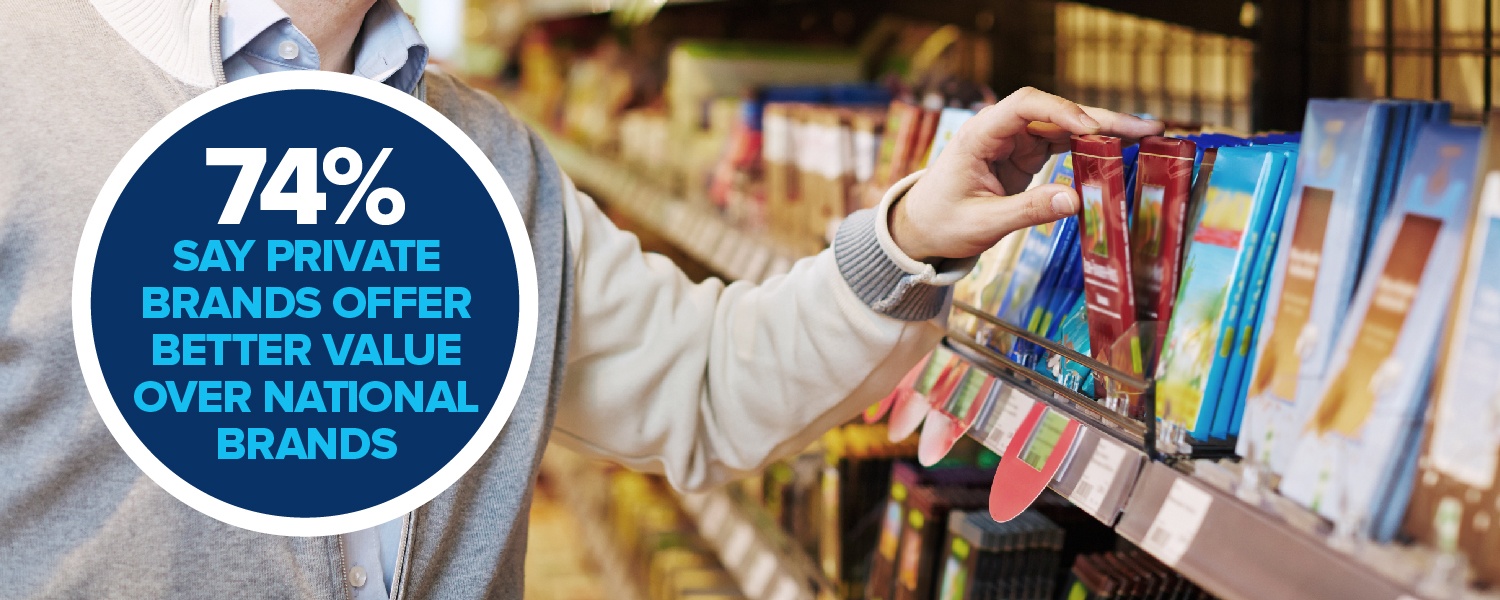 As consumer preferences shift and shoppers demand more value, the appeal of private-brand products has increased. Leading retailers ranging from Costco Wholesale to Trader Joe's have caught on to this emerging opportunity, and for good reason. Daymon, a global retail research firm, says in their 2018 Private Brand Intelligence Report that private brand has generated about $50 billion in profit margin this year, up by $2 billion just since 2016.
Almost all shoppers purchase private brands occasionally, and 85% do so nearly every time they shop, says the U.S. Grocery Shopper Trends 2018 Report conducted by the Food Marketing Institute. The top private-brand categories to bet on include milk and non-dairy substitutes, fresh bakery items, non-prescription drugs, refrigerated dairy foods, fresh produce, meats and seafood.
Here's what consumers are saying, according to the Daymon Report:
53% of consumers choose a store specifically for its private brand
61% say quality has improved over time
74% say private brands offer better value for the money over national brands
Private brands historically have been known as the low-cost option and consisted of a limited number of categories. Today, they can be used to differentiate retailers from competitors by delivering a unique value proposition for customers. The key to capturing this opportunity is listening to consumer preferences and creating product variety that can't be found elsewhere. Some consumer trends, including the rise in health and wellness and the desire for an interesting shopping experience, support the need for retailers to deliver unique, high-quality private-brand products.
Stand Out with Private Brands
Trust is a main factor for consumers considering their product selection, according to the Food Marketing Institute report. With the increased awareness about health and wellness, consumers want transparent information about their food, and to feel confident that a brand is consistently selling high-quality products. This is an area that Trader Joe's excels in. Trader Joe's private label promises that each product will contain quality ingredients, no MSG, no genetically modified ingredients and no artificial colors, preservatives or flavors. Having a strong private brand allows a retailer to have more control over what their customers are being offered.
In addition, consumers want more than just a product, they want an engaging shopping experience. According to the Daymon Report, shoppers find value in the opportunity to provide input to retailers, and 60% of consumers want an interactive experience that includes them in the shopping journey. These same consumers realize that private brands have the power to differentiate themselves and provide an added unique experience over national brands. Private brands can help to engage customers, offering personalization and access to information that can easily be managed.
Numerous technologies have advanced recently that address the shopping experience, health awareness, and product transparency trends. One example that speaks to them all is the Digimarc Barcode, a seamless technology that provides solutions to consumer and retailer needs. Prominent retailers including Wegmans and New Seasons Market currently stock their own Digimarc-enhanced, private-brand products on their shelves. Digimarc-enhanced products offer more information over a traditional UPC/EAN barcode, allowing consumers to easily scan and learn about a product in hand using the Digimarc Discover mobile app, providing unlimited product transparency. In addition to product information, users can also view personalized recipes, recommendations, and targeted discounts. Personalization plays a large role in building customer loyalty, and Digimarc-powered private brands can be an approach to keep them coming back for more.
Return to Blog
Newsletter Sign Up